Looking Back at 2022 – STEER's Year in Review
Posted by STEER On January 18, 2023
2022 was STEER's busiest year yet. Catch up on all the progress, projects, and updates from the company that you may have missed – and be the first to learn about STEER's newest endeavor. In 2022, we expanded our lineup with 3 new classes of vehicles, pickups, minivans, and long-haul tractor-trailers.
Fleet Fast Lane
One of the main focuses at STEER this year has been developing, testing, and improving our autonomous fleet solution. Our software team has completely revamped the fleet dashboard and app to provide the best fleet service possible. The new fleet app is loaded with features that make fleet management, tracking, and autonomous movement of vehicles from one hub easier than ever.
Our testing team continues to test the autonomous fleet functions on our own vehicle fleet, running our vehicles through scenarios frequently faced by fleet managers such as in-yard management, fleet queuing, first and last-mile delivery, warehouse line movement, and more.
STEER is working with several fleet companies to upgrade their existing vehicles with our autonomous driving technology. We are always open to fleet partnerships and are excited to usher in the new wave of AV fleets.
Learn more about STEER's fleet efforts here.
POI Pit Stop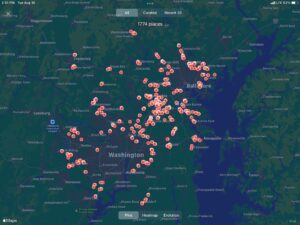 Over the past year, STEER has tripled the number of mapped points of interest (POIs) uploaded to the STEER network. There are currently over 1,770 mapped POIs in the D.C. region alone.
While we continue to work on delivering the STEER module to consumers, we have an ongoing effort to grow the STEER network with popular points of interest in the area. We have a team of skilled engineers who map frequently visited locations such as grocery stores, shopping centers, transit hubs, entertainment venues, and more. When a new POI is mapped, it becomes a location where users can autonomously park.
Carpool with the CEO
In 2021, we began executing what was the next stage in STEER's strategic development story – the commercial vehicle market. With our technology successfully enabling driverless operations in the passenger vehicle parking space, and the pandemic significantly shifting consumer mobility patterns, it was the right time to set the commercial vehicle strategy into motion. 2022 continues that story with even more success. Where in 2021 we treaded with measured steps and mixed successes, in 2022, we marched forward with many critical successes both on the business and technology fronts.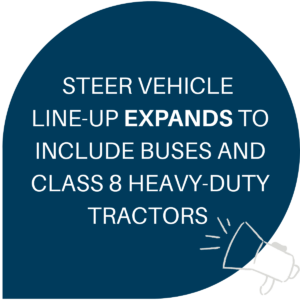 Customer delight – being our #1 measure – is at an all-time high. Repeat orders and follow-on programs in the second half of the year were the strongest indicators of that. With at least three new programs that started in 2022, STEER proved that the same technology could be successfully transitioned
to various different types of vehicles. STEER's compatibility lineup now expands from Class 2 (passenger vehicles) to Class 8 (heavy-duty tractor-trailers, and buses).
From gasoline-powered to diesel, hybrid, and fully electric, we have done it all.
Our customers brought in many special requests related to their sites and operational needs and the team was able to service them all. Both government and private customers are fully engaged to go into follow-up, multi-year programs. We also continue to support governments reporting requirements and I'm proud to report that we are one of less than 5 companies (out of 50+ AV companies) that can humble brag a zero crash record for 2022!
But wait. Our 2022 story is not only about commercial vehicles. Staying true to our DNA – we continued to lay the strategic ground for passenger vehicle low-speed autonomy. We continued growing our valet parking location network by the thousands, continued to intake new requests and pre-orders, and transitioned manufacturing scaling benefits achieved from commercial vehicles to passenger vehicles. We also added Dallas Fort Worth Airport to our portfolio of airports.
I am also delighted to share that we are nearing the completion of a very important technological growth that will accelerate compatibility with passenger vehicles irrespective of make, model, fuel type, and advanced features. We will make this announcement at the right time very soon, but know that you are the first to hear it here.
Thank you for continuing your learning journey in autonomy with us. For those who are not yet on the autonomy bandwagon, know that it will happen. Some of the skeptics have rightly said that Level 5 fully autonomous vehicles will take another decade or two at best to arrive. We agree completely as it is not trivial to build, and many will lose that game before there is a win. We also believe that niche autonomy (autonomy that serves specific tasks and purposes like parking, yard and depot automation, shuttle loops, and platooning) will become mainstream in the coming years as several indicators clearly show. STEER continues to lead in the parking and depot automation space with commercial successes and we look forward to your support in maintaining that position.
Here's to your health, happiness, and success in 2023 and beyond.
Happy New Year,
Anuja Sonalker, CEO
Thank You for Riding Along with STEER!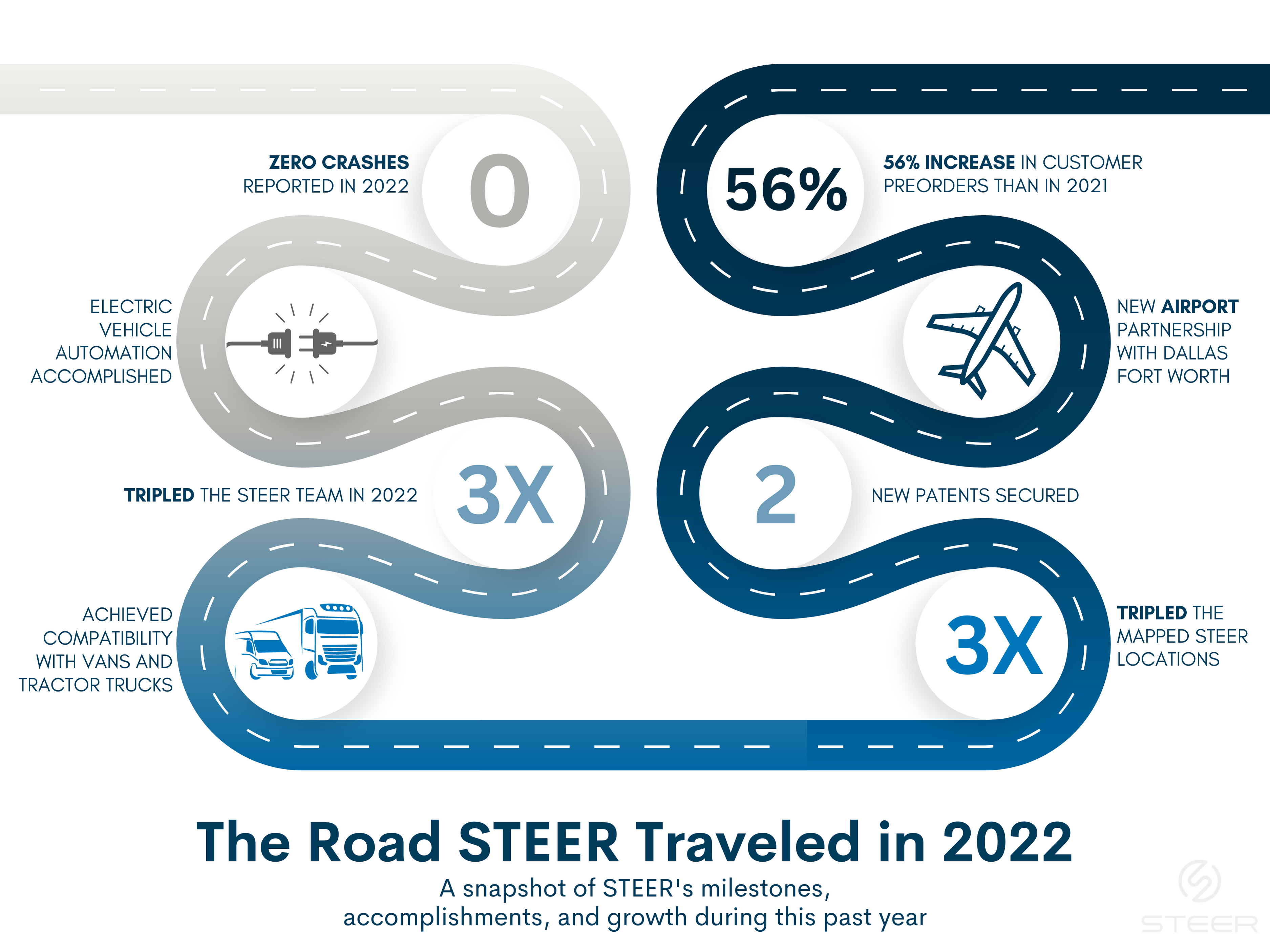 Thank you for following along on our journey! 2022 was an exciting year and we can't wait to see what the future holds for STEER.